Value, Morality & Social Reality: Essays dedicated to Dan Egonsson, Björn Petersson & Toni Rønnow-Rasmussen
Synopsis
Dan Egonsson, Björn Petersson, and Toni Rønnow-Rasmussen have been instrumental in shaping the Swedish philosophical community over the last thirty years, particularly in the field of ethics. Through their research, teaching, and guidance of the next generation of philosophers, they have made invaluable contributions to the Department of Philosophy at Lund University. This festschrift, which celebrates their upcoming 67th birthdays and their retirement from active teaching, includes thirty-two papers from as many philosophers, all of whom have been influenced by the work of Egonsson, Petersson, and Rønnow-Rasmussen. The papers touch on themes from practical philosophy that are reflected in the title of the festschrift: "Value, Morality & Social Reality." Topics covered include harm, aesthetics, final value, human dignity, social ontology, instrumental value, moral responsibility, and more. We are grateful to the contributors and reviewers who have helped us put this festschrift together, and we hope that it will serve as a fitting tribute to the important work of these three important philosophers.
Chapters
Preface

The Animal Rights Debate Reconsidered

Jumping the Hurdles of Moral Progress

Team Reasoning, Mode, and Content

The Assurance Problem for Transfers Between Generations and the Necessity of Economic Growth

Preference, Information, and the Problem of Big Decisions

'They Smiled at the Good and Frowned at the Bad'

The Fitting Attitude Analysis Reconsidered

An Account of Instrumental Value

"I Owe You"

Accountability in Finance and Morality

Theodicy as Axiology and More

Rock-Bottom Reasons

Individually Fitting but Collectively Unfitting Blame

Harming Others

Socratic Provocation in Art

Human Rights and Human Dignity

Petersson on Plural Harm

Egalitarian Justice as a Challenge for the Value-Based Theory of Practical Reasons

Collective Obligations and the Moral Hi‑Lo Game

Pragmatic Challenges in Practical Ethics

In Defence of Mooreanism

Happy Egrets Strike Back?

A Kantian Reading of 'Good' and 'Good For'

Some Reflections on Toni Rønnow-Rasmussen's Fitting Attitude Analysis of Value

What Does It Mean for a Species to Be Alien – And Why Is It a Bad Thing?

Denialism Regarding Moral Mega-Problems

Goodness and Numbers

Against the 'First' Views

Why None of Reasons, Fittingness, or Values are First

Tonicing Moral Supervenience

Do We Have Obligations to Collectives?

Causal Involvement, Collectives, and Blame

Replies to Petersson

Emotions as Value Enablers

Causation, Responsibility, and Norms

Re-evaluating Our Norms in the Face of Climate Change

The Truth about Social Entities

Love, Blame, and What We are Owed

Understanding Relational Values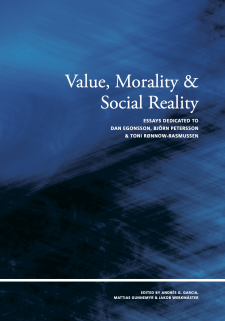 Downloads
Categories
Copyright (c) 2023 The authors and editors
License
This work is licensed under a Creative Commons Attribution-NonCommercial 4.0 International License.
Details about the available publication format: PDF
ISBN-13 (15)
978-91-89415-66-9
Details about the available publication format: Print version
ISBN-13 (15)
978-91-89415-65-2