Socialt arbete i förändring: utmaningar och villkor inom utbildning, forskning och praktik
Synopsis
Socialhögskolan och socialt arbete i ständig rörelse
Denna bok handlar om det sociala arbetet och socionomyrkets utveckling och villkor. I boken beskrivs och diskuteras det sociala arbetets utveckling, utmaningar och komplexitet, både bilden av och de faktiska förutsättningarna för utsatta grupper befinner sig i en påtaglig förändring. Under några teman tecknas i boken bilden av ett socialt arbete som ständigt är i rörelse. Rörelsen framåt kan både ses som spännande och bekymmersam. Vi vet inte riktigt vad som väntar bakom nästa hörn. Fyra teman står i centrum: Det sociala arbetets professionalisering, Nya arbetsformer, Styrning och granskning samt Socialpolitik och utsatthet.
Denna bok handlar också om Socialhögskolan i Lund, som 2022 firar 75 år. Ur flera olika perspektiv beskrivs och diskuteras hur institutionens utbildning och forskning vuxit fram och utvecklats. Hur det gick till när institutionen blev en del av universitetet, vilka forskningsinriktningar man har valt, och varför, är exempel på frågor som diskuteras i boken. I dessa beskrivningar ges en inblick i hur både interna och externa faktorer format utbildning och forskning på Socialhögskolan.
Vår förhoppning är att boken är intressant för en bred läsekrets av forskare, studenter och praktiker. Boken finns i tryckt format och på Socialhögskolans webbplats samt fritt tillgänglig här på Open Books at Lund University.
Chapters
Inledning

Sydsvenska socialinstitutet och Socialhögskolan 1947-1977

Socialhögskolans etablering som universitetsinstitution 1977-2000

Förändring och stabilitet – Socionomutbildningen 1997-2022

Från Praktik till VFU

Brukarmedverkan i utbildning

Personalens kompetensprofil

Forskningen vid Socialhögskolan 1997-2022

Att bygga ett forskningsämne

Tema: Professionalisering

Hälso- och sjukvårdskuratorn

Det sociala arbetet, politiken och juridiken

Socialarbetarens expertis

Tema: Förändrade arbetssätt

Socialrådgivning på nätet

Superintelligent socialtjänst?

Samverkan i demokratisk anda

Tema: Kunskapssyn

Evidensprojektets återvändsgränd

Tröghetens mekanismer

Interventionsforskning som en dialog mellan intellectus och ratio

Tema: Social utsatthet

Den fula ankungen

Överflöd och brist

Etnifiering av social utsatthet

En historisk ironi i det sociala hemlöshetsarbetet

Avslutning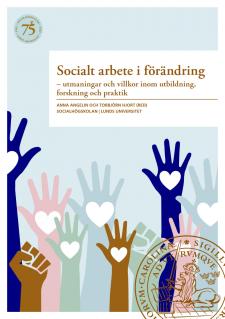 Downloads
Categories
Copyright (c) 2022 The authors and School of Social Work, Lund University
License
This work is licensed under a Creative Commons Attribution 4.0 International License.
Details about the available publication format: PDF
ISBN-13 (15)
978-91-7895-546-6
Details about the available publication format: Print version
ISBN-13 (15)
978-91-7895-545-9