CSS Conference 2019: Scandinavian Languages and Literatures World Wide
Synopsis
The texts in this book are based on a selection of the paper presentations and Keynote lectures held during the Centre for Scandinavian Studies Copenhagen – Lund's (CSS) second biannual international conference in the field of Scandinavian Studies. 
The conference took place in Lund, at the joint Faculties of Humanities and Theology of Lund University between May 16-18, 2019. 
This year's theme was "Scandinavian Languages and Literatures Worldwide – Prospects and Challenges" and the central topics being researched and discussed were:
Scandinavian Literature in the World
Translations of Scandinavian Literature
Scandinavian Children's Literature in the World
Linguistic and literary constructions of the North
The Framing of Scandinavian Studies Worldwide
Nordic Languages in the World / World Languages in the Nordic Countries
The conference had three Keynote lectures:
Språk och psykologiskt lokalsinne, by Sigrid Combüchen (Author and former Senior Lecturer at the Centre for Languages and Literature, Lund University) [see below]
Region. Verden. Arkipelag – Nordisk litteratur og Tomas Tranströmers "Östersjöar", by Dan Ringgaard (Professor at the School of Communication and Culture - Scandinavian Studies, Aarhus University) [see below]
Beyond Noma, Björk and Bergman – How the Nordic Countries could increase their Soft Power, by Francisco Beltran (Senior Lecturer at the Department of Political Science, University of Toronto) 
Following long established international praxis in the field of Scandinavian Studies the texts are written in any of the Nordic languages or in English.
Chapters
Språk och psykologiskt lokalsinne

Region. Verden. Arkipelag

Nordisk litteratur og Tomas Tranströmers Östersjöar

Skandinavisk litteratur i Polens nationella kanon

Translations of Swedish Literature in Italy in the 19th Century

An Outline

Översättning och 'felöversättning' av Öyvind Fahlströms manifest för konkret poesi — "HÄTILA RAGULPR PÅ FÅTSKLIABEN"

The Brave New World of Recent Swedish Dystopias

Tito Collianders roman Grottan i den västeuropeiska och österländska kulturella och religiösa kontexten

Hamsun's betrayals

Out of Norway

Ibsen Attuned to Our Age of Populist Anger and Political Theater

Different Norths

– Visions of Scandinavia in Contemporary Italian Literature

The naming process of the Ikea products

Analysis of the names of the early catalogs (1950—1953)

A Traditional Avant-garde

— Trends and Features of Scandinavian Children's Literature in Italy

Georg Brandes as a Guide to the Necessary Intersectionality of Scandinavian Studies

Tiden efter heltene

— Underdogfiguren i Mats Wahls ungdomsroman Vinterviken (1993)

Statusforskjell på norske og aserbajdsjanske dialekter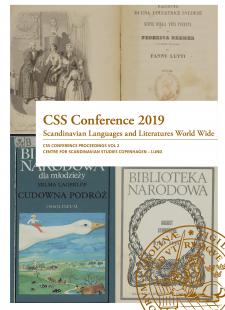 Copyright (c) 2020 The authors
License
This work is licensed under a Creative Commons Attribution-NonCommercial 4.0 International License.
Details about the available publication format: PDF
ISBN-13 (15)
978-91-89213-10-4
Details about the available publication format: HTML
ISBN-13 (15)
978-91-89213-11-1