Lex Machina: Unlikely encounters of international law and technology
Synopsis
The text and software experiments on international law and technology collected in this volume produce an irritating echo. It is an irritating echo because, at times, the algorithmic attempts to modify, create, and translate legal texts reveal residual traces of reality which rigorous and systematic legal processes aimed to eradicate. Conversely, it is also irritating because, at times, the algorithmic engagement with law surpasses the lawyer's desire to reduce reality into legal form by ruthlessly succeeding with the expulsion of any non-technological elements from the realm of legal language.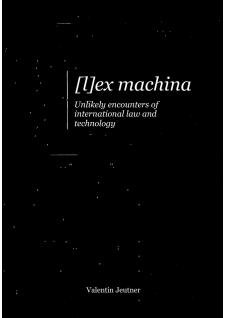 Categories
Copyright (c) 2020 Valentin Jeutner
License
This work is licensed under a Creative Commons Attribution-ShareAlike 4.0 International License.
Details about the available publication format: Print
ISBN-13 (15)
978-91-519-4877-5
Details about the available publication format: PDF
ISBN-13 (15)
978-91-519-4879-9