CSS Conference 2017: Rethinking Scandinavia
Synopsis
The texts in this book are based on a selection of the paper presentations held during the first instance of Centre for Scandinavian Studies – Lund Univsersity (CSS) biannual international conference in the field of Scandinavian Studies.
The conference took place in Lund, at the joint Faculties of Humanities and Theology of Lund University between June 14-17, 2017. 
The theme was "Rethinking Scandinavia" and the central topics of presentations and discussions were:
Scandinavian Identity Throughout History
Minority Culture
Scandinavia in the Eyes of the World
The New-Media Landscape from a Historical Perspective
Material Culture of the Nordic Space
Border-Crossing: Migration, Travel, and Tourism
The Dynamics of Nordic Linguistics
More information about the conference can be found here: https://www.css.lu.se/events/css-conference/2017-rethinking-scandinavia/
Following long established international praxis in the field of Scandinavian Studies the texts are written in any of the Nordic languages or in English.
Chapters
Translating Scandinavia

A perspective from across the sea

Den litterära dialogens mekanismer

Oscar Parlands Riki-trilogi i den ryska litterära kontexten

Skandinabospråk

Om Nordisk ministerråds bruk av termen nabospråk

Poeten Tegnér II

Romanfiguren Tegnér

Icelandic Culture and Concepts of the Æsir in Manitoba

Scandinavia in a Fractured Globalized World

I en rymd och en tid som inte har ålder

Selma Lagerlöf och Grazia Deledda

Poeten Tegnér I

Metrikdiskussionen i Tegnérs brevväxling med Carl Gustaf von Brinkman 1825

A Curious Case of Identicide

Professor Andersen's Night by Dag Solstad

Imagining Scandinavia in Ukraine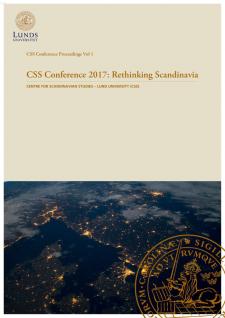 Copyright (c) 2020 The authors
License
This work is licensed under a Creative Commons Attribution-NonCommercial-NoDerivatives 4.0 International License.
Details about this monograph
ISBN-13 (15)
978-91-89415-73-7
Date of first publication (11)
2020