Ljud och tystnad för sinne och själ: betydelser av ljud och tystnad för själslig och mental rekreation
Synopsis
Vad vet vi om vilka betydelser ljud och tystnad, respektive frånvaro av dem har för mental och själslig rekreation idag? Ljudmiljöcentrum vid Lunds universitet har i en serie tvärvetenskapliga symposier sökt skapa forum för denna diskussion genom att bjuda in forskare från ämnen som miljömedicin, psykologi, landskapsplanering och akustik med mera, men har i denna volym valt att ge plats åt röster från ett annat håll. Inom s.k. nyandliga rörelser av olika slag hålls ofta tystnad och stillhet fram som välbehövliga motpoler till det moderna pulserande samtidslivet. Ljudmiljöcentrum bad några forskare och tänkare berätta om deras syn på vilka roller ljud och tystnad kan spela för välbefinnande i sinne och själ.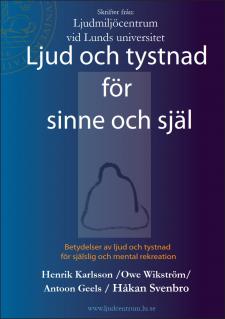 Downloads
Categories
Copyright (c) 2008 The editor and the authors
License
This work is licensed under a Creative Commons Attribution-NonCommercial-NoDerivatives 4.0 International License.
Details about this monograph
ISBN-13 (15)
978-91-89415-27-0