Sounds of History
Synopsis
What are the sounds of history? How has the soundscape changed throughout history? Every age has its own soundscapes. In an interdisciplinary symposium at Sound Evironment Centre at Lund University in 2008, researchers from different disciplines gave their views on historic soundscapes and the sounds of yesterday. From archeological findings of prehistoric sound tools, acoustics in Roman Theatres, sound insulation in old buildings to old people ́s memories of sounds of yesteryear, this collection of texts gives samples of recent research on historic soundscapes.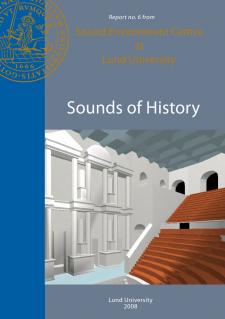 Downloads
Categories
Copyright (c) 2008 The editor and the authors
License
This work is licensed under a Creative Commons Attribution-NonCommercial-NoDerivatives 4.0 International License.
Details about this monograph
ISBN-13 (15)
978-91-89415-26-3