MANIFEST för en bättre ljudmiljö
Synopsis
Manifestet innehåller 33 punkter som uppmärksammar akuta ljud- och bullerfrågor och föreslår åtgärder. De avslutande texterna fördjupar några aspekter som rör människans förhållande till ljudvärlden.
Ljudmanifestet har utarbetats av en arbetsgrupp bestående av Stig Arlinger, Bengt Holmstrand, Henrik Karlsson, Leo Nilsson, Ludvig
Rasmusson, Torbjörn Stockfelt, Ola Stockfelt och Mikael Strömberg. De avslutande aforismerna samt "Ljud och känsla" har författats av Leo Nilsson; partiet "Hör du mig?" av Stig Arlinger och "Det totala lyssnandet" av Ludvig Rasmusson.
Ljudmanifestet tar upp ett urval av de många aspekter som kan anläggas på företeelserna ljud och ljudmiljö. Utförligare resonemang och fler infallsvinklar återfinns i symposierapporten Svenska ljudlandskap. Om hörseln, bullret och tystnaden.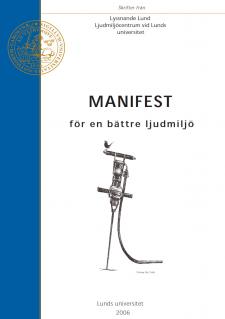 Downloads
Categories
Copyright (c) 1995 Royal Swedish Academy of Music and the contributors
License
This work is licensed under a Creative Commons Attribution-NonCommercial-NoDerivatives 4.0 International License.
Details about the available publication format: PDF
ISBN-13 (15)
978-91-89415-25-6
Details about the available publication format: Print version
Date of first publication (11)
2006